---
Why should I buy a stove from Esher Fireplaces?
Stoves are, quite possibly, THE most fun you can have to heat up your room. That being said there is a sense of reality one has to have when owning a stove. Stoves are a very hands on and experimental appliance, an appliance that does have it's do's and don'ts.
As an independent retailer, we will discuss your individual requirements both technical (such as sizing the heat output to your room and advising on your flue type) and design; and ensure that you select the most appropriate product for your home. We will also be able to advise on, or assist with, the installation process as well as help provide any after-sales support and servicing your appliance may require in the future. A service that isn't always offered when purchasing online.
Most manufacturers do not believe suitable levels of customer care and satisfaction can be obtained from purchasing a product only online and we would strongly recommend that you consider this when undertaking your research and making a purchasing decision. Further, please be aware that we do not offer technical support to products bought via nationwide online sales, where this support would normally be offered by one of our qualified sales and installation team.
---
Primary Air
This is the air that is drawn into the wood burning stove, typically at a low level to maintain the combustion of the solid fuel being burnt.
Usually, the primary air enters through a control on the front of the stove. The control can be adjusted to regulate the amount of air entering the firebox, thus giving you the opportunity to determine the intensity of the fire. This, in turn, will alter the heat output.
Primary air is the best way of controlling a stove burning solid mineral fuels and may also be used to start a wood fire.
However, primary air is not normally used in a log fire once the logs are burning well.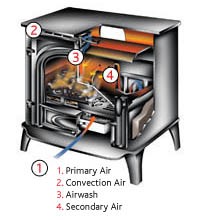 Airwash System
Airwash is a specific design feature that uses a specially placed vent or vents to draw in cool air from the room; the air is then heated and ducted to 'wash' over the inside of the glass. This feature helps to keep the glass clean for longer, allowing you to enjoy the glow and flames to the full.
Airwash air is the best way of controlling a stove burning wood and can be used a small amount in a stove burning solid mineral fuels to keep the glass clean.
Convection Air
Where a wood burning stove includes a convection system, cool air from within the room is drawn into the convection chamber and then heated as it rises within the stove before flowing out into the room. The hot air rising draws more cool air into the stove, setting up a continuous flow and maintaining added heating efficiency.
Some stoves also have the option of an electrically operated fan to boost the convection process and provide a quicker warm-up time within your room.
Cleanburn System
Most Stovax wood burning stoves incorporate triple air systems to provide a cleaner burn, greater thermal efficiency and control of the flame picture as follows:
Airwash air is drawn down over the inside of the window to keep the glass clean and clear. It is also used as primary combustion air when burning wood.
Primary air for use with solid fuel, also used to start wood fires but not normally used once a wood fire is burning.
Cleanburn secondary air is pre-heated as it passes through a heat exchanger chamber within the firebox. It is then drawn into the smokestream, where it combusts unburnt hydrocarbons to provide a cleaner burn and greater thermal efficiency.
Introducing pre-heated, secondary air into the firebox at just the right point promotes efficient combustion of any unburnt hydrocarbons that may be in the smoke. This 'cleanburn' process can greatly increase the combustion efficiency of your wood burning stove and dramatically reduce the amount of unburnt particles going up the chimney, this can in turn reduce your servicing costs and save you money in fuel. It also gives you an improved flame visual.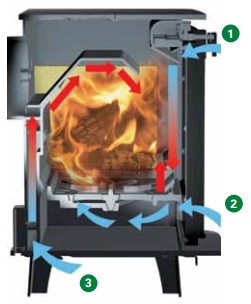 External Air
All wood burning stoves with a heat output above 5kW require an additional flow of air for combustion into the rooms in which they are installed. An External Air facility allows this air to come directly from outside your building rather than through a vent into the room, thus eliminating draughts and adding to the overall heating efficiency.
Smoke Control Areas
Most town and city homes are located in Smoke Control Areas as designated by the Clean Air Act 1993. To burn logs in a stove in these locations, the wood burning stove must be suitable for use in Smoke Control Areas.
This exemption is given only to appliances that have been independently tested to demonstrate particularly cleanburning combustion. Without this exemption, you may only burn smokeless fuels in a multi-fuel stove within a Smoke Control Area.
Q&A's BEFORE
Q&As AFTER
---